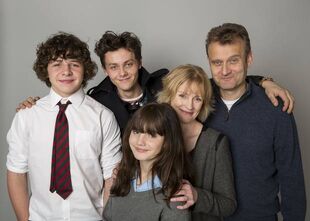 On June 4th 2012, Outnumbered was commissioned for a fifth series to air in either late 2012 or early 2013. It was later confirmed by Tyger Drew-Honey, who plays Jake Brockman, that it would air in May 2013. The date then got changed to Janurary 29th 2014, this was the fifth and final series.
There were 5 episodes:
Rites of Passage
Karen is having trouble adapting to big school, Ben is auditioning for a part in the school musical, and Jake has made a foolish fashion choice. Meanwhile, Sue and Pete try not to interfere or send disastrous emails.
K for Victory
Ben becomes obsessed with the world of psychology, Jake turns into a parenting expert and Karen enters a school swimming gala. Dad gets into an argument at the pool, and Mum goes to war with the printer.
House of Hormones
Pete's goddaughter Stacey arrives from Australia. Sue looks after her friend's baby for a night. Meanwhile, Ben's role in Spartacus is under threat. 
Into the Wilderness
Pete and Ben head to the wilderness, for a camping trip. While back at home, Jake has to deal with his university applications and Mum worries that Stacey is influencing Karen's food choices.
Communication Skills
Sue struggles with a skype link at work, while attempting to arrange her family. Pete goes to war with his phone. Karen gets a talk from her headteacher. Jake is stranded, and Ben loses his phone in a cafe. 
Spartacus the Musical 
Stacey returns, Ben is nervous about his starring role, Karen stresses about her hamster and Auntie Angela arrives.