Ben Brockman

Ben in series five (the final series)

Age

19
Benjamin David Brockman more commonly known as Ben is a fictional character in the British comedy series 'Outnumbered'.
Characterization
Edit
Ben is the middle child in the Brockman family, and is 15 or 14 years old. (in Season 5). He is a crazy, hyperactive and crafty kid. In Series 1, he had developed an extraordinary talent for lying, which his parents are clearly annoyed about. They actually have good reason to be annoyed about his lying as it is causing them a few headaches. For example, at a school football match, parents come up to Pete (his father) and he realises that Ben has been telling them lies about him, such as that he is a SAS bodyguard and how he is so bravely fighting.
Ben is a very autistic, spoilt, stubborn, weird, nosy, immature, and funny child - he often refuses to do what his parents tell him to. Pete and Sue often give up with Ben.
Ben has many friends at school which he plays games with usually involving rounding people up.
He sometimes can be arguementative sometimes with his siblings.
He makes his brother angry and fights with him.
He is well-acquainted with his sister but still argues with her.
Character History
Edit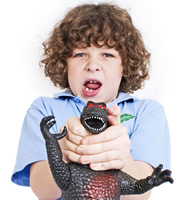 Series 2
Edit
In series two
Ben supports Arsenal Football team
Karen often makes fun of his hair "being like a girl's".
He loves to act out Star Wars episodes in his garden with his toy lightsabers.
He loves dinosaurs.
He also likes a TV comedy called Little Britain.
Ben has friends called Ross, Deion and Ibrahim.
Ben begins puberty very early in the series. His voice breaks when he is around 11 years old and he grows enormously. It is revealed in the final episode that he has two dense bushes of armpit hair as well as a thick rug of chest hair despite only being 13.